C.J. Matthews came up with the idea for Blankies 4 My Buddies to honor the memory of his sister, Karsen, after his mother experienced a pregnancy loss.
"For my son, who felt the loss of his sister so sharply, Blankies 4 My Buddies has been a way to redirect feelings of helplessness and hopelessness into pride because he believes that his sister is watching over him in approval and gratitude," Kristen Wright-Matthews, the publisher of Macaroni Kid College Park-East Point-Morrow, Ga., wrote for Macaroni Kid in a story about pregnancy loss in 2018.
Blankies 4 My Buddies distributes blankets to sick, displaced, or otherwise traumatized children.
C.J.,13, was featured along with his mother, Kristen, and little brother, Kollin, on CBS Evening News Tuesday, Dec. 1, for his work with Blankies 4 My Buddies. Watch the whole segment here:
C.J. was also featured on ABC's Good Morning America earlier on Dec. 1. It was shown on the Jumbotron in Times Square — a thrill for the 13-year-old.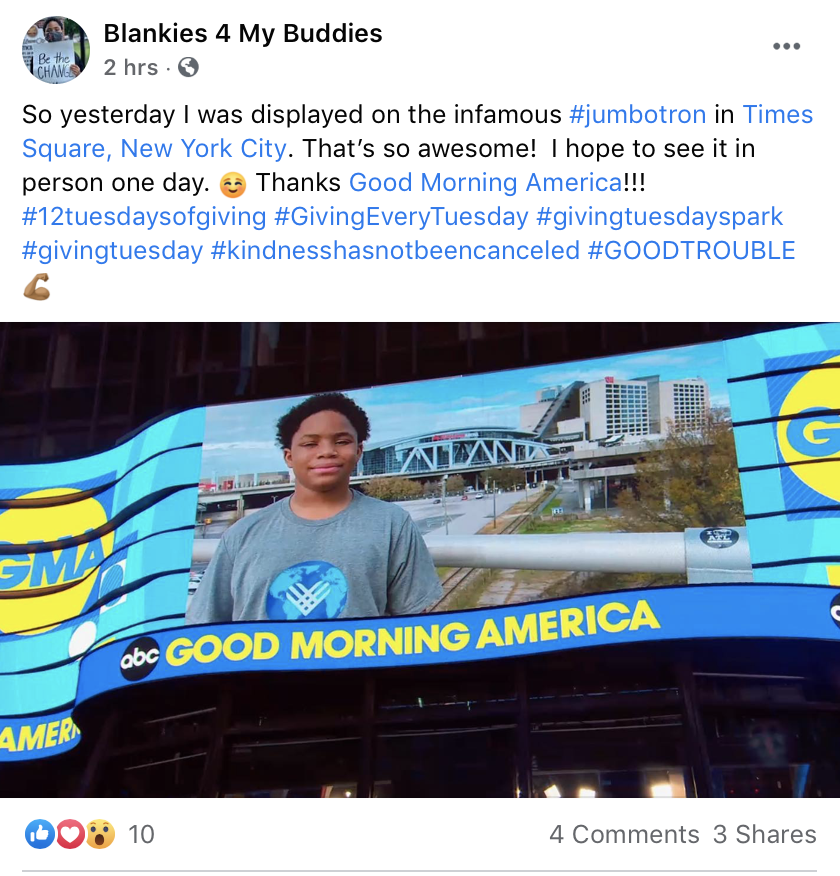 "I give because right now the world needs kindness more than ever," he said during the Good Morning America feature. "Everything has been canceled. But kindness hasn't been canceled."
C.J. typically hosts a Giving Bowl every December to raise donations for Blankies 4 My Buddies. While the Giving Bowl had to be canceled this year, C.J. and his family forged on.
They organized a drive-thru blanket donation event where nearly 150 blankets were donated and enough cash donations came in to buy almost 1,000 more.
In addition, they distributed 500 boxes of food in their community, including milk, eggs, meat, and fresh produce provided by Feeding GA Families. C.J. also created comfort bags for children in shelters for Giving Tuesday.
| | | |
| --- | --- | --- |
| | Kristen Wright-Matthews, and her son, C.J. | |
🌸 Macaroni Kid Shreveport-Bossier Moms In the Know is a free weekly e-newsletter and website that highlights all of the great things for kids and their families to do in our community. Plus, you can find fun activities, family-focused businesses, book and product reviews, recipes, crafts, and much, MUCH, more! Macaroni Kid Shreveport-Bossier Moms In the Know serves families in Shreveport, Bossier, Haughton, Benton, Vivian, Minden , Stonewall and other surrounding communities.🌸
🌸Get a FREE event calendar for the Shreveport-Bossier Area and beyond full of festivals, fairs, activities, events and more! Sign up by clicking HERE!🌸
🌸Is your business, church or group holding a family-friendly event that is not listed?🌸 Submit the event by CLICKING HERE! Thank you!🌸
This isn't the first time C.J.'s work has been recognized. He was also named one of 12 student ambassadors for the global movement Giving Tuesday's new initiative called Giving Tuesday Kids in 2019, an accomplishment featured in Macaroni Kid.