It's a familiar scene. Your kid is under the weather, not terribly sick, but enough to raise your radar. Is it worth the trip to the doctor? Are you overreacting? What if it's an ear infection? I don't want to be the parent who didn't take her in. I hear you; I am you. Which is why I was thrilled to learn of a new product, TytoCare. TytoCare bridges the gap between a telehealth visit and an in-person exam. It is a handheld system that connects on-demand to a doctor to perform a full exam right from your home, when you need it most.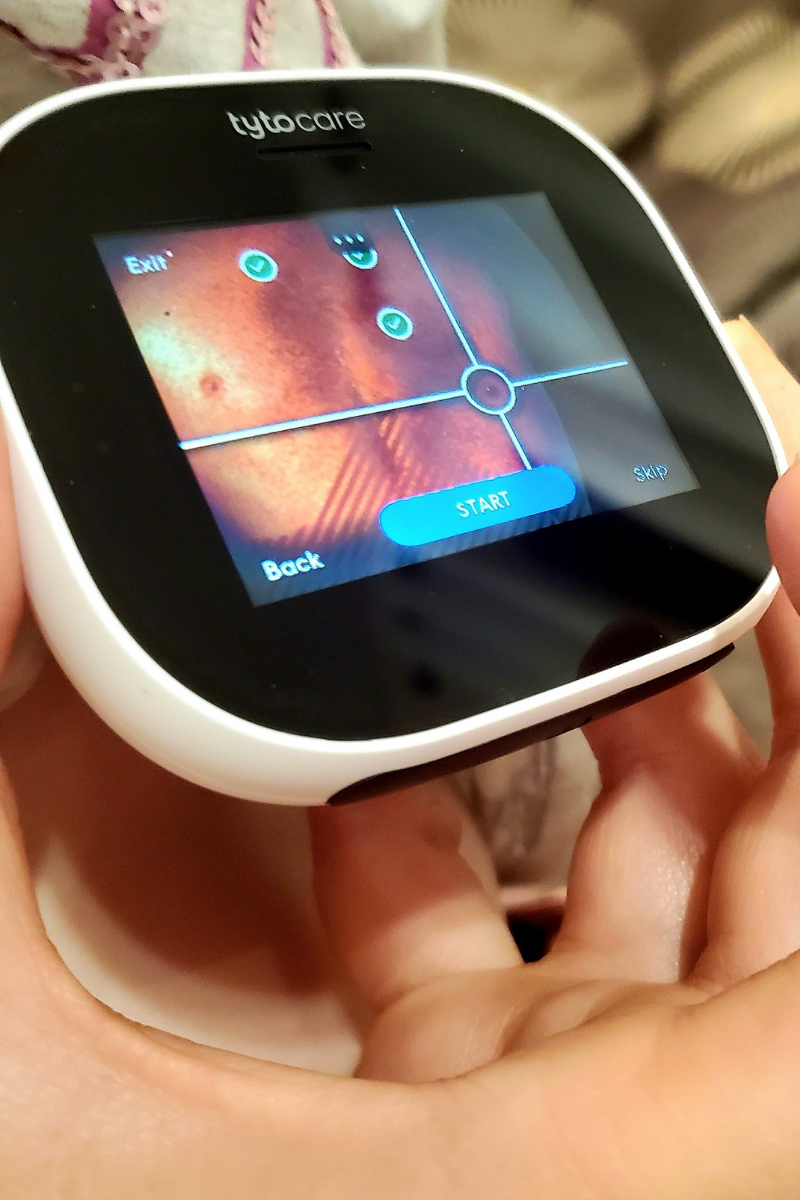 If your child is anything like mine, you can usually tell (or at least confidently suspect) when she has an ear infection. Yet, for good reasons, your pediatrician's office will insist on seeing her for an exam. For me, this currently means calling for an appointment, finding last-minute childcare for my other daughter, bundling up my sick child, taking her into the office, and hoping she doesn't touch anything so we don't leave with more germs than when we arrived. By now, the kids' schedules are thrown for the day, my husband may have had to leave work early, and I finally have confirmation of what I already suspected -- we need a quick antibiotic. It's a scene we've all come to accept, but now there is another option.
Enter TytoCare. After receiving this device, the all too familiar scene I described above becomes much more convenient:
Open kit, turn on TytoCare, and connect to app
Enter symptoms
Connect to provider
Begin Exam
Receive diagnosis, treatment, and prescription
Just like that. All from home. Finally, peace of mind without turning my world upside down. With TytoCare you'll be able to record vital signs such as temperature, heart rate, and breath sounds in real time and capture an image of the ear drum -- all so a doctor can examine, diagnose, and if necessary, prescribe medication without you ever leaving home. It's perfect for common ailments such as colds, allergies, sore throat, fever, and the dreaded ear infection.
When it first arrived I had plenty of questions. They were quickly answered as I made my way through the setup guide.
How does it work?
TytoCare comes with a handheld device and three attachments: a stethoscope, an otoscope, and a tongue depressor.
You will need to download the free app which will give you one of two exam options

Connect live with a doctor who will walk you through a traditional exam
Have the AI technology walk you through the exam and submit results to be reviewed by a clinician who can then give a diagnosis

You will need reliable wifi to conduct an exam
How difficult is it to use?
Not difficult. If you can operate a basic smartphone, you should not have an issue with TytoCare.
The app will prompt you with a quick QR code to connect your device, making set up a breeze.
The app comes with a step by step tutorial for each exam you will walk through during set up.

I highly recommend practicing before you need to use it in real-time. It's not hard to figure out, but you'll want to know your way around the equipment beforehand.

TytoCare is very user friendly. During each exam, it will prompt you with any necessary adjustments (background noise, pressure, etc.)
Designed with kids in mind

Kid and adult sizes are provided for the ear exam and tongue depressor
I had my daughter hold the phone so she could see what I was doing during the exam which helped keep her calm and focused. The lung exam prompts with an opening and closing flower to help time deep breaths and you can see the camera view on your phone for ear exams -- how cool!
Is it safe?
The advantage of TytoCare is you can have a medical professional walk you through the exam every step of the way.
Results are recorded by the device and sent to a doctor. You are not required to record or submit any information, so there is nothing lost in translation.
Created with safety top of mind. For example, the ear attachment is designed so that it physically will not puncture the eardrum.
TytoCare is 100% HIPAA-compliant. Only you and your provider can access medical information. Rest assured your information is safe and secure.
Will my insurance cover it?
If your insurance covers telehealth appointments, it should be compatible with TytoCare as well. However, you should call your insurance provider to confirm your personal coverage.
TytoCare is available online and at Best Buy for $299. It can be purchased with your Flexible Spending Account (FSA).
Why would I invest in this?
On-demand service. This means weekend, evenings, middle of the night. No more choosing between waiting for an appointment or going to a germ-infested urgent care. The sooner you have a diagnosis, the sooner you can grab any needed medication from the pharmacy and give your child relief. That's peace of mind.
Certainty. Being able to connect and give real-time vital signs to a medical professional takes the guessing game out of it.
Convenience. For me, this might be the most compelling reason to use TytoCare. My kids always get sick at the worst times (don't they all?); not having to lose an entire day for a doctor's appointment is huge. Especially if it's for a toddler who gives less than reliable information when claiming to be "sick." Making a trip to the pediatrician to find out it's "nothing" is simultaneously relieving and frustrating. TytoCare can help.
So I don't have to go to the doctor's ever again?
No, TytoCare is not meant to replace your physician. It's an on-demand solution for when you or someone in your house is under the weather.
Who could use this?
TytoCare is designed for everyone in your house. With attachments for kids and adults, it's safe for all.
New parents. If you're stumped on what to get an expectant couple, maybe peace of mind is the answer? Nothing is scarier than the first time you have a sick baby in the middle of the night and you don't know if you're making the right call. TytoCare can help take the stress and worry out of the situation.
Elderly family members. Especially in covid times, when elderly people may want to avoid the doctor's office TytoCare offers a practical solution.
TytoCare is here to stay in my house. Pick yours up at Best Buy today or find out more about TytoCare here.
*Author was compensated for reviewing this product, but opinions are her own.
🌸 Macaroni Kid Shreveport-Bossier Moms In the Know is a free weekly e-newsletter and website that highlights all of the great things for kids and their families to do in our community. Plus, you can find fun activities, family-focused businesses, book and product reviews, recipes, crafts, and much, MUCH, more! Macaroni Kid Shreveport-Bossier Moms In the Know serves families in Shreveport, Bossier, Haughton, Benton, Vivian, Minden , Stonewall and other surrounding communities.🌸
🌸Get a FREE event calendar for the Shreveport-Bossier Area and beyond full of festivals, fairs, activities, events and more! Sign up by clicking HERE!🌸
🌸Is your business, church or group holding a family-friendly event that is not listed?🌸 Submit the event by CLICKING HERE! Thank you!🌸