It's such an exciting time for so many kids who are headed off to college.
We have one of those kids in our home too. We are excited, but we are also very aware of how much change is coming.
When I talk about our middle daughter leaving for college, so many people tell me that it'll be fine. I'll be fine. Our family will be fine.
I hear it over and over: It's part of the growing up process. It's life's next step. I say these same words to my friends too because I know they're true.
And it is a great and important and inevitable step.
But our family has an element added to the college equation: Autism. Our son -- her little brother -- has autism, which makes my daughter's leaving more difficult for all of us.
So I can say: It's going to be hard. It's going to be sad. It's going to be so new.
Will we get through it? Yes.
But what I feel like I cannot explain well is that the bond that these two have is unlike any other.
She "gets" him before we do.
She anticipates his needs and words before he speaks.
She comforts him when no one else can.
He seeks her out for a hug and he looks up to her with his beautiful eyes.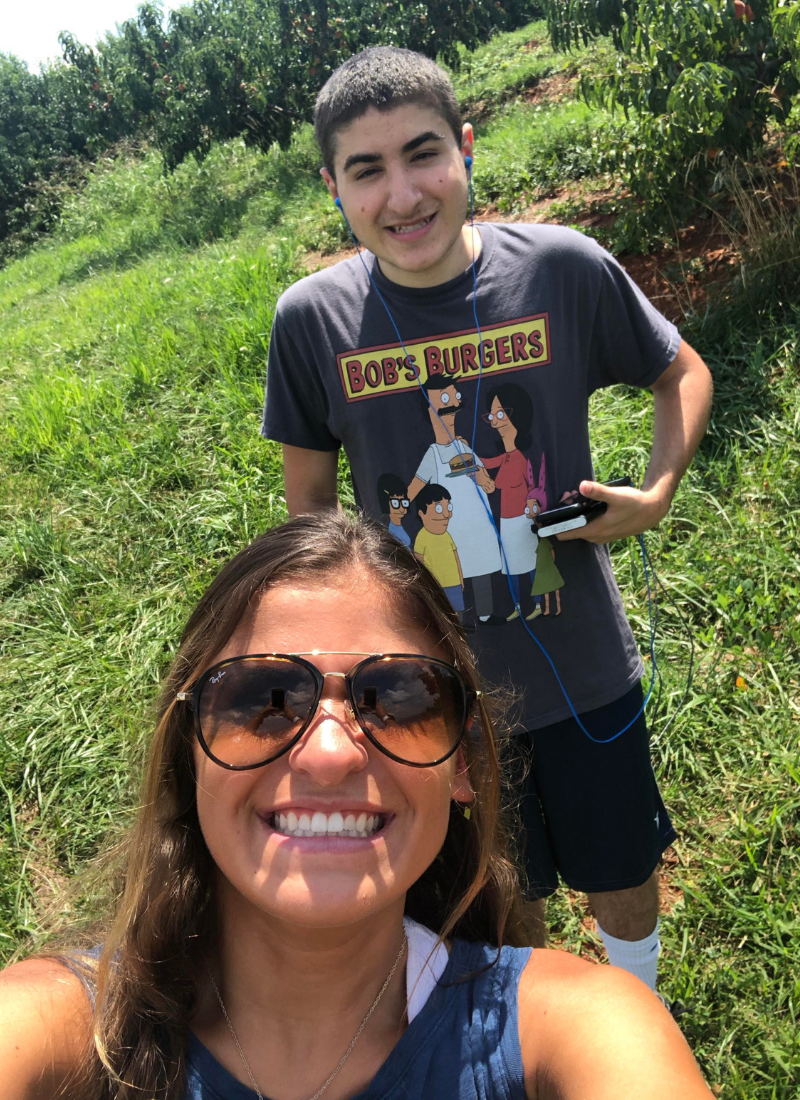 Does this mean we wish she was not leaving? No, not at all.
This journey will be wonderful and one that she deserves and will hopefully thrive in. But, if we are talking about the fears and realities of it all, we would be fooling ourselves to deny this unknown piece.
The dynamic of our home will be so different, and different is OK. But what hurts so much is that he can't express himself the way we wish he could, the way most typical kids can.
He can't tell us how sad he is or how much he will miss her.
He can ask where she's going. He can Google the address and see how far it is. He will learn facts about her college town that will be interesting. He will tell you, when asked, that he will miss her and tell you the address of where she is going.
But, at night or in the morning -- those times when he is used to having her there -- she won't be there. And she has been there for all of his 15 years. That will make my heart hurt, just a little bit differently than other parents whose kids are leaving for college.
To all of us mommas and dads who go through these incredibly special life moments with our typical kids and struggle for our special needs babies, here's to knowing you're not alone in being sad and uncertain about what comes next.
We will get through it. We always do. But let's embrace each other with the knowledge that it's harder than we want it to be, and smile for our babies who are entering this new chapter.
I'm not an expert. Just a mom living a life with a beautiful soul who has autism.
Editor note: Carissa Garabedian wrote this essay in 2018. Her daughter is now preparing to leave for her second year of school. We asked Carissa for an update on how the first year of transition went for her family, and here's what she told us:
Marky made it through his sister's first year away. We visited, we Facetimed and she came home when she could. When the school year ended, the first thing he wanted to know was if she was going back. Throughout the summer he consistently asked when she would leave and would ask the name of the school and town over and over.
He missed her in a way that words can't really explain. I see it in his eyes, I see it in his face, and I feel it in his words. But, he did it. And we will do it again in two weeks. Nothing about it is easy, but it's part of our process, and we are learning along the way.
Carissa Garabedian is the publisher of Know Different and also publishes Macaroni Kid Richmond, Va.
🌸 Macaroni Kid Shreveport-Bossier Moms In the Know is a free weekly e-newsletter and website that highlights all of the great things for kids and their families to do in our community. Plus, you can find fun activities, family-focused businesses, book and product reviews, recipes, crafts, and much, MUCH, more! Macaroni Kid Shreveport-Bossier Moms In the Know serves families in Shreveport, Bossier, Haughton, Benton, Vivian, Minden , Stonewall and other surrounding communities.🌸
Get a FREE event calendar for the Shreveport-Bossier Area and beyond full of festivals, fairs, activities, events and more! Sign up by clicking HERE!
Is your business, church or group holding a family-friendly event that is not listed? Submit the event by CLICKING HERE! Thank you!
| | | | | | |
| --- | --- | --- | --- | --- | --- |
| | | | | | |