This year, try creating a family time-capsule!
Let each everybody fill out the form below, and then decide as a family if you would like to additional photos, favorite news articles or current events from the past year that have had an impact or left an impression on your family as a whole or on individuals, or perhaps include small objects.
Adults can get in on the fun to, we will ALL do this at my house!
You can choose to either keep it simple, and put everything in a large baggie or if skipping the objects/articles, pop it into a binder.
Try making an evening out of it: gather supplies (glue, tissue paper, magazines to cut pic's out of, some scissors & tape) and decorate a leftover gift-box to keep everything in until you open it next New Year's Eve!
I am SURE that my kids will get a kick out of reading all about themselves a year from now.
All of those little memories that will be suddenly remembered that had been forgotten in the hustle & bustle of our busy year!
I think it will be super fun for us to see how everyone has grown, evolved, and changed... and maybe even stayed the same.
It should also prove interesting to find out if any of us manage to fulfill any of our goals and resolutions for 2021!
Let's make this a new tradition for our family every New Year's Eve!
Click HERE for your own printable!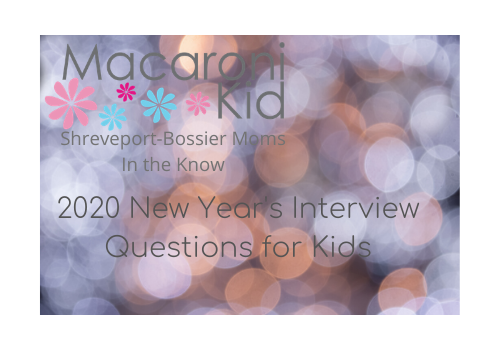 🌸 Macaroni Kid Shreveport-Bossier Moms In the Know is a free weekly e-newsletter and website that highlights all of the great things for kids and their families to do in our community. Plus, you can find fun activities, family-focused businesses, book and product reviews, recipes, crafts, and much, MUCH, more! Macaroni Kid Shreveport-Bossier Moms In the Know serves families in Shreveport, Bossier, Haughton, Benton, Vivian, Minden , Stonewall and other surrounding communities.🌸
Get a FREE event calendar for the Shreveport-Bossier Area and beyond full of festivals, fairs, activities, events and more! Sign up by clicking HERE!
Is your business, church or group holding a family-friendly event that is not listed? Submit the event by CLICKING HERE! Thank you!