I have heard about escape rooms for a few years but I wasn't sure that I wanted to be locked in a tiny room with a group of people in a stressful situation. But when Escape Shreveport offered for me to bring some friends and give it a try I thought it was worth a shot.
Now you must understand that my boring life means I'm in my PJ's by 6pm and getting out after dark...what? But the time we could all meet was for the 7pm room on a Friday night. We decided to make it a girls night and leave the husbands at home so me and my best girlfriends loaded up for some hopeful fun. First we had to watch a video about the rules and how to work together in the room, fortunately it was kind of funny which made us giggle the entire time. Then we were taken to "the room". I was nervous because while I consider myself to have common sense that whole understanding codes and all had me nervous, When we read the initial clue I considered climbing under the table for the rest of the night. Fortunately I have some smart friends who were able to figure that part out and after that it started coming together. Sometimes it felt like we would never make it to the next clue and then we would find it usually right in front of our face.
I don't want to give away too much info on the room but I will say that we got out with 15 minutes to spare and with only 3 people that's pretty amazing!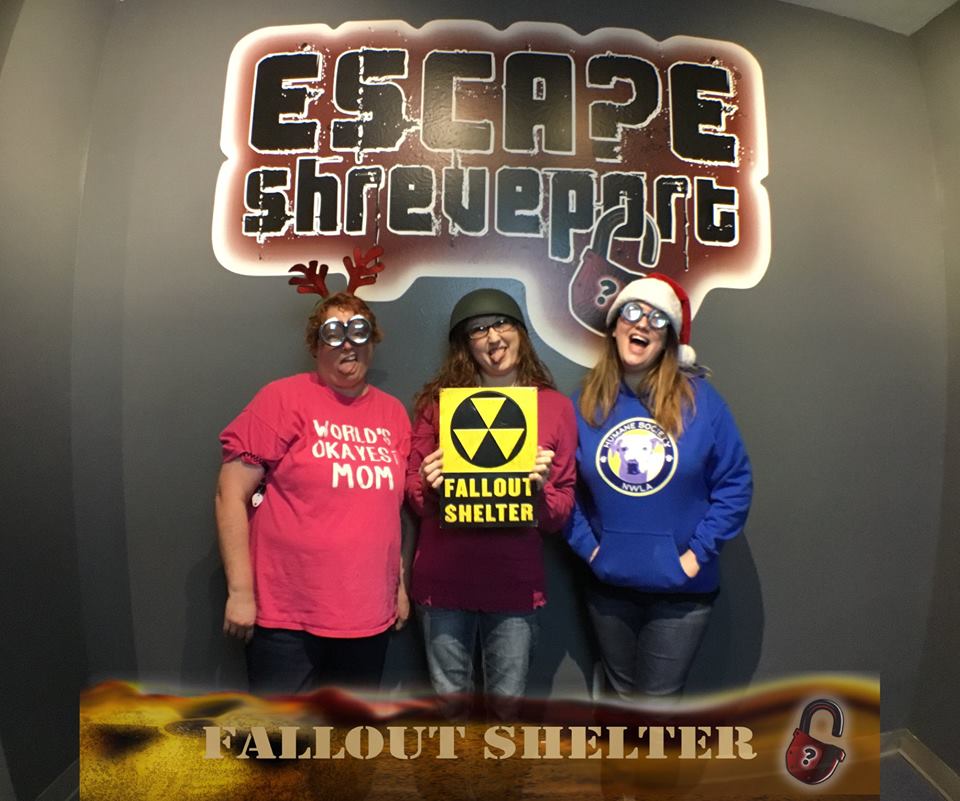 Me and my friends after escaping the Fallout Shelter.
So what are my thoughts on Escape Shreveport? GO! Grab some friends and GO! It really was a fun night where I couldn't stress about personal problems or what I still needed to do for the holidays but where we laughed and worked together and accomplished something really cool. I've read that this is great for team building with co-workers and I'm sure it is but I'm not sure I'd want to be locked in that small room with someone I didn't like but if you can do it then it is a great idea. My 10 year old daughter has been wanting to go since seeing one on "American Housewife" and while I know some people take their kids to these things I would never want to be locked in the room with my 10-year old, I told her maybe when she gets older. Everyone is different but I prefer to do this with people I actually like and will do it again with friends. One of my friends had done another escape room and said that she preferred this one much more, she came in concerned and left, like myself, ready to do it again.
So if you are looking for a night out to go have some fun I rate this well worth going out past 6pm and waiting to put on those PJ's.