I love hearing about local Moms who are stepping out of their "safe zone" and trying something new, trying to make a difference and fighting for what they believe in so when I heard that Macaroni Kid National was running a new series called #MomsMakingWaves I wanted to jump on board. Here is my first feature and I hope to feature more women in the future that I see doing something brave and probably that I would not have the nerve to do.
Anyone who really knows me knows that I hate politics. I dealt with it enough when I lived in New Orleans and worked for a prominent figures in-law and found that I don't really trust very many politicians. For me to do this story is out of character but it's not about the politics side, it's about the Mom side and how this Mom said she would take a risk to fight for her kids and other kids.
I want to tell you about a lady, a Mom, a "housewife" if you will who decided that she didn't like the way some things were being done in our educational system and instead of just complaining she decided to try and really make a difference. She has no political background nor does she have an agenda more than her two children and wanting better for our educational system and teachers. I met Sumer Cooner, at my daughters school where we volunteered together for running club. I always found her to be a quiet and kind woman who had respectful kids and her daughter was just adorable. After I found out that she was running for School Board District 8 I began to learn more about her and what is going on in our school board office.
She began to share with me a little about what is going on at the school board and it really opened my eyes. To hear and be angry about it is one thing but to put yourself and your family out there by running for office is a whole different level of bravery in my eyes. New politicians coming in are put under a microscope and sadly attacked on a personal level and I know that can't be easy for anyone. That's before the money you spend being the underdog because you aren't known as well as someone who has been in politics a long time. But Sumer saw that something needed to be done for her kids and she strongly believes in neighborhood schools so she isn't just going to stick her head in the sand. She is working hard for the community to get to know her and striving for the opportunity to make a difference in Caddo Parish schools while still being the best Mom she can be. It's not easy but sometimes you have to be the one out there making waves to see the difference that needs to happen.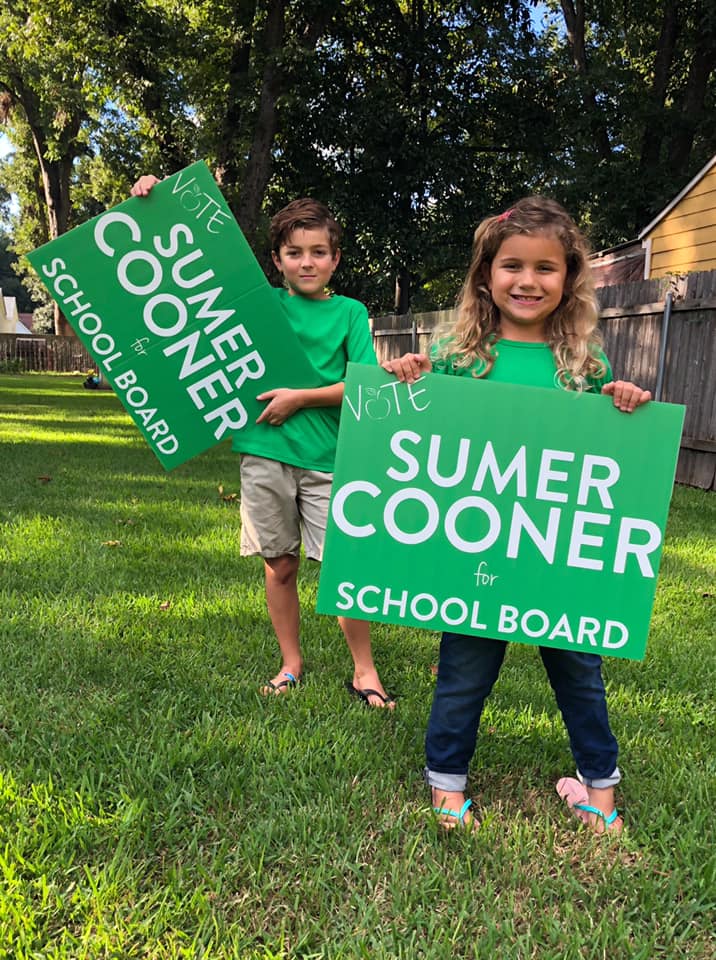 I am not in any way endorsing anyone for office although I personally am a supporter, you do your own research and choose who you want to vote for but don't let money or anything else sway you, remember this is about our children. But I do encourage more mothers to take a stand whether it is to run for office or speak up when no one else will. It may be the loneliest place at the time but your kids will learn from that to be brave even when it's not the easiest thing to be.