Welcome to the monthly series of book suggestions from the Bossier Parish Libraries. Once a month the library will suggest books for your kids, teens and yourself! All of these books are available to check-out for free with your library card.

It's important that kids keep reading, for education and to help them grow their imagination. And for us it can help escape our everyday chaos.
Adult Fiction: "Downfall" by J.A. Jance
Fans of J.A. Jance will not be disappointed in her latest novel, "Downfall." Joanna Brady is up for re-election as Cochise County Sheriff. She is expecting another baby, working on a double murder, and a third while at the same time planning a double funeral for her mother and stepfather. Joanna is running on fumes.
The FBI is called in to assist in the double murder of two women found at the base of Geronimo Peak. One is a local teacher and minister's wife; the other a microbiologist. Brady's office is dealing with the brutal attack on the golf course where a wife hits her husband in the head with a golf club killing him.
The investigation of the double murder leads to a shocking revelation.
"Downfall" is fast-paced with excellent characters. Fans of J.A. Jance will not want to miss this new book.


Young Adult Fiction: "Stormbreaker" by Anthony Horowitz (AR; BL: 5.1; PT: 7.0)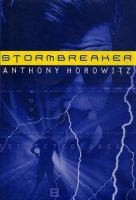 Accomplished author, Anthony Horowitz has started a new series: "Alex Rider Adventure." This is book one and the series starts off at a fast run. Alex's uncle worked undercover and supposedly died in an accident. After discovering the truth about what happened, Alex is recruited by the same organization as his uncle, but Alex is only fourteen. 
Prepared with only minimal training and the few things that were given to him as weapons, Alex is sent into the field to find out what he can about why his uncle was killed and who was behind it. He is confronted with life and death decisions armed only with his tenacity, wits, and ingenuity to get him through. What he discovers is unthinkable. 
This is a fascinating story. I think it will be a hit series.


Children's Nonfiction: "You Wouldn't Want to Live Without Nurses!" by Fiona MacDonald (AR; B.L: 5.8; PT: 1.0)
One in series of interesting books that cover subjects like plastic, sleep, soap, and other things we do not think about, that actually make a big difference in our lives. This particular book provides a timeline of how nursing came to be "one of the most trusted professions." Nursing is recorded to have its beginnings in ca. 3000—100 BCE. There are examples of how nurses cared for the sick at home, school, on the battle field, and in hospitals. 
This little book is full of facts and information kids interested in nursing or medicine will certainly like. Parents will enjoy reading it too.